Angelo Mathews, Dinesh Chandimal settle Sri Lanka despite James Anderson probing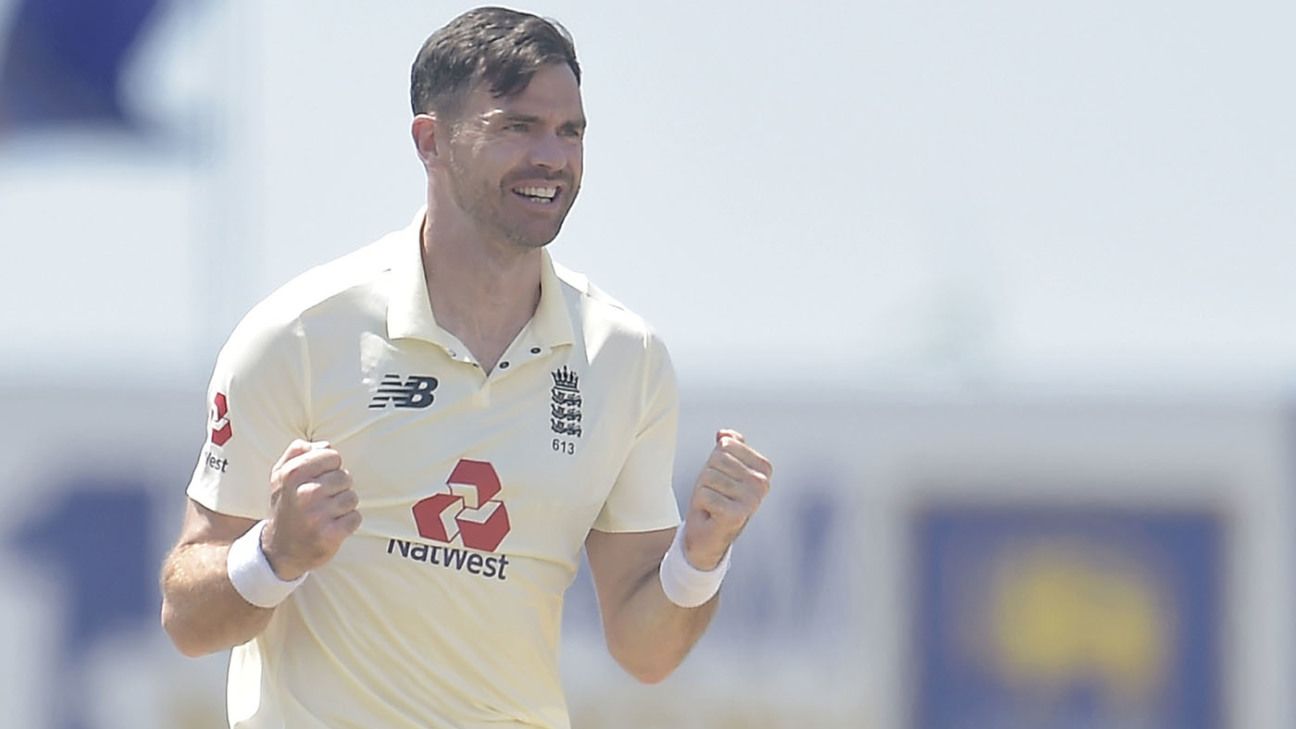 Sri Lanka continue solid recovery from 7 for 2 after Anderson makes early impression
Tea Sri Lanka 155 for 3 (Mathews 63*, Chandimal 42*) vs England
continued to be masterful after lunch. Having claimed two wickets during a five-over morning spell that cost only four runs, he seamed a delivery away from Lahiru Thirimanne second ball of the afternoon, and had the set batsman edge through to the wicketkeeper.
He would continue to be unerring through his afternoon spell, testing and outside their off stumps, despite the modest movement on offer. Sri Lanka's most-experienced batting pairing saw through that challenge, though, and also survived a rapid burst from Mark Wood midway through the session. Mathews progressed to a half-century, and Chandimal moved to 43 by tea. Together, they'd put on 78 and moved Sri Lanka to a position of respectability, if not quite comfort, on a surface that may not offer much to the spinners until day three, at least.
It was Mathews who faced Anderson the most in the afternoon, and he was unwilling to take the bowler on, playing out consecutive maidens against him, and exercising discipline in not being baited into a shot outside off. Eventually, in his tenth over, Anderson conceded a boundary, overpitching on Mathews' pads to be flicked between two short fielders on the leg side for four. Anderson was clearly attempting to have Mathews caught playing that shot, but the batsman played it too well. A few balls later, he drove at a fullish Anderson ball and a thick edge sent it zipping past gully for another boundary.
Chandimal, meanwhile, warmed up with runs against the spin of Dom Bess, and the seam of Sam Curran. He hit Curran for two fours - one either side of the pitch - early in his innings, and although Bess occasionally bowled tight overs to him, including a maiden, Chandimal never seemed bogged down. Later in the session, he even ran down at Bess to blast him down the ground for six, by which time Chandimal had truly settled at the crease.
The only bowler who appeared to bother him, and to a lesser extent Mathews, was Wood, who bowled almost uniformly above 140kph (late 80s mph) and occasionally even breached 150kph/93mph. Wood largely went short, or very full. Mathews decided to take the short ball on to moderate success - the only ball he mishit was the one that went off the shoulder of the bat to the fine leg boundary and took him to 50. Chandimal was more reluctant to attack Wood, who was also finding reverse swing towards the end of his spell. Either way, both batsmen survived without any major scares.
Earlier in the day, Sri Lanka seemed to be heading towards another collapse when Anderson removed both Kusal Perera and Oshada Fernando in the same over, to leave the hosts at 7 for 2. Perera played a wildly ambitious shot, aiming to deposit Anderson over long-on but managing only to get an outside edge to first slip. Oshada, meanwhile, failed to adequately ride the bounce of a short Anderson delivery and chopped on to his stumps.
Thirimanne led the recovery in that first session, making a second successive 40-plus score (to follow his hundred from the last Test) for the first time since 2015. He looked assured until Anderson removed him after the break, for the eighth time in Tests.
Andrew Fidel Fernando is ESPNcricinfo's Sri Lanka correspondent. @afidelf