Stevie Eskinazi flashes the bat early, but James Anderson steals the afternoon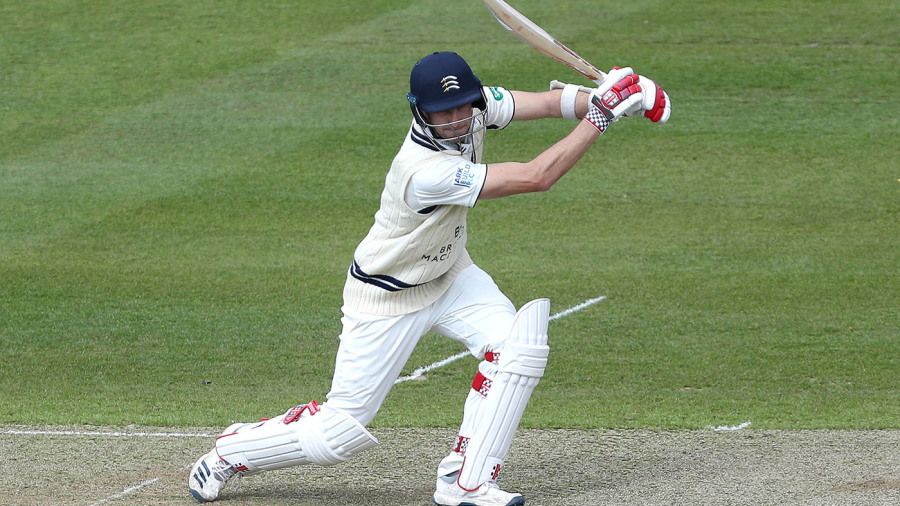 Middlesex 236 for 9 (Eskinazi 75, Gubbins 55, Bailey 4-51, Anderson 3-41) v Lancashire
An April morning in St John's Wood. Wisden just published, winter taking flight and the world freshly clothed in its spring livery. It is a common habit at this point in an Ashes season to consider who will bat in the top order against Australia. Admittedly the field has been narrowed down to about thirty batsmen but before long anyone with a pulse who has reached double figures in the previous fortnight will have his advocates.
For half this day we thought the 75 runs made by Stevie Eskinazi, a player rarely considered in an international context, would define the game's first quarter. But by evening it was an opening bowler who had done most to mould the match's current shape. For having taken just one wicket in the first two sessions, James Anderson bagged a couple more after tea as Middlesex declined from 181 for 3 to 236 for 9 at stumps. It may not have been exactly what Dane Vilas had envisaged when he opted to bowl at 10.30 but it was very acceptable all the same.
Lancashire's revival was completed by Tom Bailey, who added the late wickets of James Harris and Steven Finn to the two he had taken in the afternoon session.
But it was inspired by Anderson, who had Dawid Malan caught at slip for 24 when he pushed one across the batsman and then returned with the new ball to nip one away from Max Holden when the young left-hander had made a composed 34. Rob Jones took the resulting slip catch quite as easily as he had when pouching Eoin Morgan in the gully off Josh Bohannon eight overs earlier.
Morgan's careless slash summed up Middlesex's evening; Bohannon's clenched fists encapsulated Lancastrian joy in pugnacious fashion. The 22-year-old only celebrated his birthday on Tuesday but his rolling gait suggests he has already spent a dozen years before the mast. One thinks of Leading Seaman Frank, the part played by William Hartnell, in the The Yangtse Incident
And all this was rather unexpected given Lancashire's only success in the morning was achieved in the seventh over when Anderson squared up Sam Robson and Glenn Maxwell took the resultant edge at second slip without palaver. That wicket was Anderson's 921st in first-class cricket but it was more notable for being his 300th for Lancashire in his 18th season with the county.
Not surprising, you may say, when one considers the effect of central contracts on domestic cricket but still remarkable when one compares his achievement with that of Brian Statham, who took eight games more than Anderson's 77 to reach the same landmark for his beloved county yet packed those matches into three years and four months following his debut in 1950.
The contrasts between the two are as revealing as the comparisons. It is accepted that Statham and Anderson are two of England's finest bowlers and each has had an End named after them at Emirates Old Trafford. Yet Statham had never travelled in an aeroplane before being asked to fly out and join MCC's tour of Australia in 1951; the furthest he had voyaged from these shores was the Isle of Man.
Anderson, by contrast has probably got more air miles on his clock than the average transatlantic pilot. Statham's first job after leaving school was clerking in a firm of coal merchants and in what passed for retirement he worked in a brewery's sales department. When Anderson's career ends one doubts he will need to find alternative employment.
All bowlers, though, have to insulate themselves against disappointment and Anderson's was plain in the morning session when Gubbins edged him twice between slips and gully. He threw back his head, shoved his hands in his pockets and stalked back to his mark as if appalled at life's iniquity.
That was as nothing, though, when set beside Graham Onions' frustration when he had both Gubbins and Eskinazi dropped by Alex Davies and Maxwell respectively in the space of seven balls. Thus reprieved, the pair lunched on 84 for one and Middlesex supporters looked forward to further prosperity.
But it did not quite work out that way. After batting well and reaching his fifty with a pleasing back foot drive off Maxwell, Gubbins played across a full length ball from Bailey and was leg before wicket for 55. Nearly eight overs later, Eskinazi, whose driving through the off side had been one of the day's delights, made to leg glance the same bowler but only feathered a catch to Brook Guest.
As seems to have been the norm in recent seasons, Lancashire went into the game with two or three 'keepers and Guest took over the gloves when Davies injured himself dropping Gubbins.
Middlesex got to tea on 175 for 3 but rest of the day belonged to Lancashire's bowlers with Anderson taking 3 for 41 from his 21 overs. It was a fine effort although one doubts he thanked his feet for getting him though the day, as Statham was wont to do.
The rest of us thanked God or whatever means the good for letting us enjoy this stuff once again. The scents of blossoms were everywhere as one left Lord's this Thursday evening and not even the subterranean stench of the tube could banish them.
\n